Once upon a time, long, long ago, a newly married couple went in search of their very own hunting dog. The young couple had spent many a hunting season shooting over other peoples' dogs. Now that they were married and finally had a home of their own with a big backyard, it was time for their very own dog. Oh, but what breed of hunting dog should they choose? They read and they studied, but still they could not decide, until one day the young couple saw a beautiful red dog in a pet store. "What is this?" they asked, "A Vizsla?" It was love at first sight!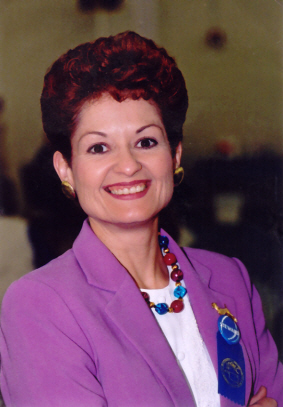 From this humble beginning, Renaissance Vizslas has developed into a small kennel devoted to the training, showing and breeding of the dual purpose Vizsla. A dog that can excel in the show ring, hunt all day in the field and sleep at your feet at night. No, we didn't buy that puppy in the pet store, but we did begin in earnest our search for the right Vizsla! We read a few books and spoke with several breeders until one day we brought home our very first Vizsla in December of 1992.
Encouraged by the breeder to show, Linda was bitten by the "bug" and we have been involved now for nearly nineteen years. Originating in Southern California, we moved to central Oklahoma in 1996 due to job transfers. This move gave us the opportunity to meet other Vizsla breeders, see dogs from other parts of the country and to venture into all kinds of different dog activities. We have handled our dogs in conformation events, run them in sanctioned field trials (though not many) and participated in numerous hunt tests.
While in California, Linda apprenticed for one year under Sigbot "Bodo" Winterheldt, the founder of the North American Versatile Hunting Dog Association (NAVHDA). Once in Oklahoma, she continued her field training under Mark Appleton for an additional year. This experience gave both of us tremendous insight into the training of a good hunting dog.
We have also been active members of a number of dog-related organizations. We are presently members of the Vizsla Club of America, Texas Gulf Coast Vizsla Club, Show-Me Vizsla Club and an associate member of the Vizsla Club of Colorado. Additionally, Linda has served three terms (1999 - 2005) as a Director on the VCA Board of Directors.
Today, we focus our efforts on competing with our dogs, continuing to develop a line of dual purpose Vizslas by breeding only on a limited basis, developing our knowledge of canine behavior and genetics, assisting with Vizsla rescue and educating people on dog care, behavior and the value of purebred dogs.
This site is devoted to these efforts. Thanks for coming to visit and enjoy your journey through the virtual kennel of Renaissance Vizslas!